Compact Bar
Reduce the amount of space you need to store empty bottles. Reduce the number of waste bins you need - from twenty bins to five.
The Compact Bar BottleCrusher is able to crush bottles as fast as they can be fed into the machine. It handles all types of glass including beer, wine, champagne and spirit bottles.
The Compact Bar unit comes complete with a sturdy waste trolley and four spare waste trays making trips to the bin more efficient. Each waste tray holds approximately 50 wine bottles or 140 beer bottles and each trolley will safely transport 3 waste trays. The waste tray holds 16kg of crushed glass and complies with accepted occupational health and safety standards.
Eliminate noise complaints from nearby residents
The Compact Bar will remove the need to tip empty glass bottles into bins, eliminating bottle collection noise which can upset nearby residents.
Features
Smallest and quietest in the range of BottleCrusher machines
Stainless steel finish allows for seamless integration into any setting
Quiet enough to be operated during service periods. Noise levels do not exceed that normally generated in a hospitality venue
Moved easily between locations due to the lockable wheels. Can be transported simply for functions and special events
Ideal for bars, restaurants and cafes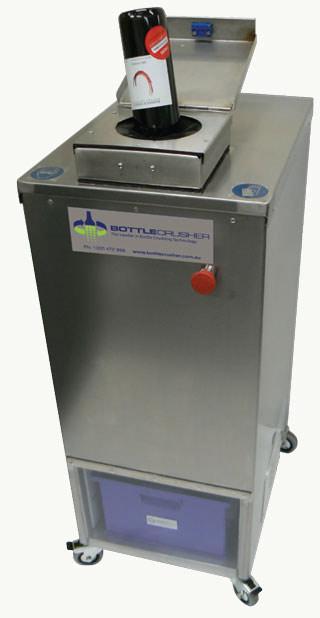 See it in action
TESTIMONIALS
"We have been using the Compact Bar bottlecrusher for 3 years now, and we could not operate without the crusher, due to space savings in the waste room and we generate a lot of glass. The support service is great and glass collection is timely and on-call when we are very busy."
Lamonts Wine Store