Bottlemaster
The BottleMaster can lift both 120L and 240L bins, is fitted with the highest safety features and comes with a steel waste bin which can hold approximately one cubic metre of crushed glass - the equivalent of 20 full 240L bins of uncrushed glass bottles.
The BottleMaster is ideal for facilities generating high volumes of glass bottle waste such as casinos, sporting arenas, concert venues, function centres and mine sites. The Bottlemaster meets the highest levels of safety requirements, satisfying category 3 for Occupational Health & Safety regulations in Australia.
The BottleMaster is fully automatic and will help venues significantly reclaim valuable space by reducing the number of bins required to store glass waste.
Eliminate risks associated with lifting and tipping large bins
The BottleMaster will prevent any unnecessary risk of injury through lifting and tipping heavy bins full of empty bottles.
Features
Fully automatic, easily operated by one person
Meets Category 3 of Australian OH&S Safety Standards
Reduces labour and waste collection costs
Ideal for facilities generating a high volume of waste glass such as casinos, sporting arenas, concert venues, function centres and minesites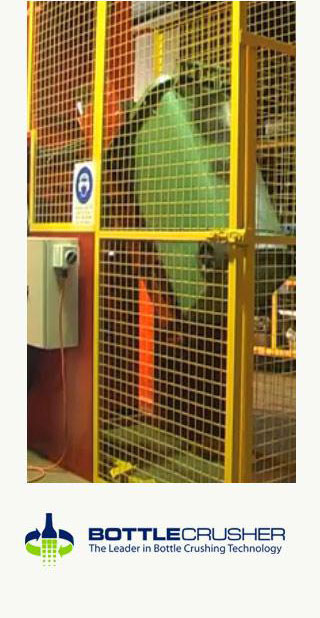 See it in action
TESTIMONIALS
"We have been using the Compact Bar bottlecrusher for 3 years now, and we could not operate without the crusher, due to space savings in the waste room and we generate a lot of glass. The support service is great and glass collection is timely and on-call when we are very busy."
Lamonts Wine Store